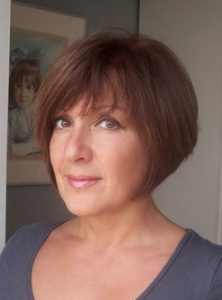 Slavica Sekuloski, born in Belgrade, has lived and worked in the Netherlands since 1979.
She studied at the art academy in Arnhem (now ArtEZ Institute of the Arts), with an initial interest in fashion, but it did not take long before her passion for painting became evident. Slavica's preference for warm, deep colors resonated her longing for the former Yugoslavia she grew up in. She immediately developed her own style in her autonomous work. Themes varied from 'Masks' and 'Venice', 'the Macedonian landscape', to nudes.
Slavica's autonomous work is exhibited regularly in The Netherlands and abroad. Her diverse portfolio consists of acrylic and oil paintings, aquatint etches and brass statues.
Over time, due to the large and continuing amount of requests, Slavica specialized herself in painting portraits with the same warm and characteristic feeling that had made her autonomous work stand out.
For over a decade, Slavica exposes her work in her gallery in the picturesque town called Doesburg, which is open every first Sunday of the month as part of the city's art route. If you wish to visit the gallery at any other time, you can always schedule an appointment.